Tomorrow is my first 5k. I am suddenly fearful that every measurement I've taken of my regular walking route is only 2 miles instead of 4.5. I am just sure that the entire 5k will be a 20% incline. Or perhaps I'm only anxious because I'll be wearing spandex in public.
I'm trying really hard to just focus on the free t-shirt and the perfection of the 5k playlist. I'm sure that after my 4-hour hiking (mis)adventure on Saturday, tomorrow's walk/run will be a piece of cake! (that means "easy", not followed by a celebratory piece of literal cake)
The playlist for my 5k works out like so:
1. Crazy - Gnarls Barkley
This song has been my #2 playlist spot following KT Tunstall's "Black Horse and the Cherry Tree" for at least the past 3 months. I had to drop KT for the race. The pace is just too slow and only one warm-up song should suffice. I'm not sure I could get my groove on if I dropped them both, however.
2. Get Up Offa That Thing - James Brown
Sure to turn a regular walk into a bounce.
3. Tears Dry On Their Own - Amy Winehouse
I've been digging Amy since a friend sent me Rehab a year ago. "he walks away, the sun goes down", this tune makes me feel like i'm on a mission!
4. Suspicious Minds - Dwight Yoakam
This one jumps me up to 124bpm, but Dwight makes me not even notice. Plus, Joe digs this one, so it stays.
5. Crazy on You - Heart
Nothing gets me more motivated than Ann Wilson's voice. Damn.
6. All These Things That I've Done - The Killers
I pray that I'm climbing a hill during this segment of the playlist. This song was made for that purpose, I'm sure of it!
7. Back to Black - Amy Winehouse
A fast-paced, yet mellow song to trick the mind.
8. Get Back - The Beatles
For my Joe-Joe.
9. The Sweet Escape - Gwen Stefani
After realizing that she's only nearly every playlist I make, I think she must be my girl crush.
10. Ain't No Other Man - Christina Aguilera
This one could easily be replaced at any moment. I've just heard it too many times. But still, a good solid motivating walking song.
11. Honky Tonk Women - Rolling Stones
I feel the need for a break after the last few songs. And another bonus, this one gives me my daily recommended intake of cowbell.
12. Stuck In The Middle With You - Stealers Wheel
Ahh yes, the ear-slicing classic. Hark?! Is that more cowbell I hear??!
13. Lose Control - Missy Elliott
Will probably be on every walking playlist I ever make. I never get tired of it.
14. The Way You Move - Outkast
Showin' a little ATL love.
15. Shallow - Ryan Adams
It just wouldn't be right to not include him.
16. It's My Life - Gwen Stefani
I've always loved this remake, even more than the original. Sometimes the remake is just
better
!
Original: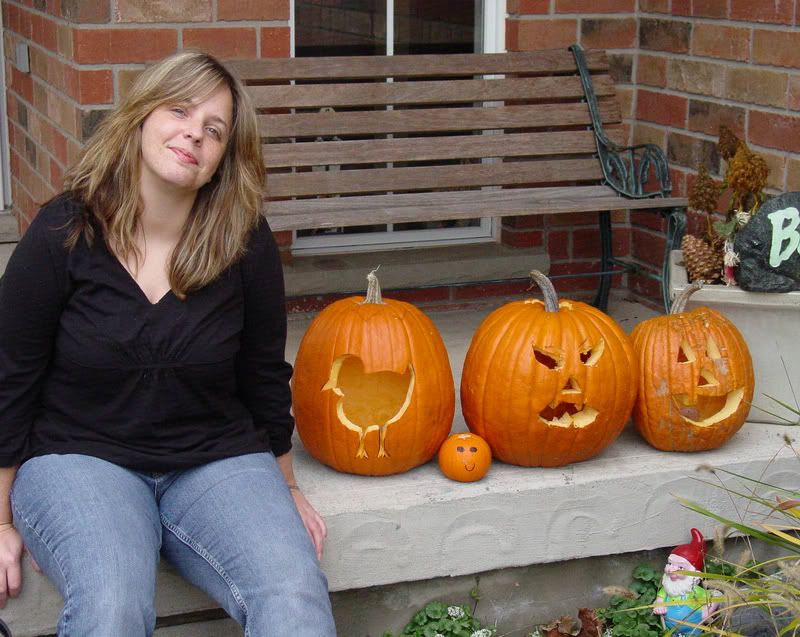 This was me a year ago. I resemble a pumpkin!
The playlist above will run one hour and 33 seconds.